News & Whatever
Category: News
February 25, 2016
Fred Ginsburg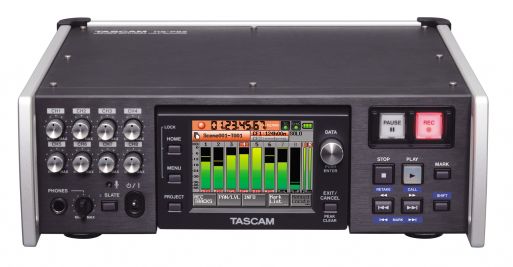 I recently had a meeting with a couple of key players from TASCAM about the future of their HS-P82 field multi-track recorder and was thrilled to discover that some long awaited updates to the recorder are coming soon. Like so many of us, I was frustrated by TASCAM's shifting priorities when it came to product development and improvement, and was afraid that they had abandoned the HS-P82. However, with the launch of their new 64 track Dante recorder, attention is once again being directed towards their field machine.
A firmware update is due out very soon to address a couple minor issues and changes that we have been asking for. That update is only the first of several that will come out during the year. In addition to changes in the firmware to make the operating system, menus, and metadata more in line with industry workflows -- TASCAM is also looking into some hardware updates as well. Changes that cannot be achieved by re-purposing existing circuitry will eventually lead to physical changes and a new model number, but for the meantime as many improvements as possible will be executed within the new firmware versions.
I cannot predict the exact timetable for these changes to be enacted; a lot of engineering and software design will be required. But TASCAM assured me that new firmware would be released periodically.
So where do I think that the HS-P82 fits it in terms of recorders? It is leagues ahead of the Zoom F8, but still trails behind the Sound Devices 688. So I question whether the HS-P82 is going to threaten Sound Devices' domination in Hollywood circles; that cat has left the bag a couple years ago. The 688 is one very sophisticated machine, albeit more expensive and more difficult to learn -- but well worth the effort and the expense if you are working on a big show.
Where I see the HS-P82 shining is in the independent and lower budget productions. Also, schools, corporate, and government. The recorder is fully professional and mates with its RC-F82 fader controller (mixer) to offer a very complete timecode multi-track recording package. The shorter learning curve and the lower price will appeal to this "middle market" that needs advanced capabilities and industry accepted workflows.
The HS-P82 is still renowned for its high quality pre-amps and friendly ergonomics. What the industry eventually took issue with was the format of the metadata and a few tweaks here and there to streamline the workflow. But these issues are now being addressed, along with some desired operational improvements (software and hardware) related to life on a film set.
So don't sell off your HS-P82 quite yet. Major updates are on the way to give new life to this classic recorder.