24-Bit Dailies in a 16-Bit World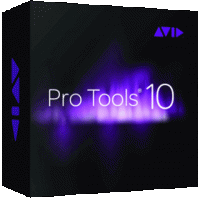 Even us olde dogs still have to learn new tricks! Although I actually started in this industry in post production, and then migrated to the Production side -- it has been too long since I have actually had to do hands-on post mixing/sound design. So this semester I am sitting in on a Pro Tools class and bringing myself up to speed on the new software. Allow me to share a few minor things....
Acquiring the software. I recommend Sweetwater Sound. Unlike most "box" houses, they actually have Sales Engineers who KNOW the products. I didn't just speak with an Order Taker, but actually someone who was intimately familiar with the software.
What I purchased was the Faculty/Institutional academic version of Pro Tools 10, box shipped including the iLok (flashdrive aka dongle) that is required any time you want to launch the program. Most of you would order the Student version, but make sure that it includes the iLok in the package.
Pricing was $295. That included shipping; and since I am out of state, there was no sales tax. So it all came out to just $295.
I had to provide documentation or proof that I qualified for Academic pricing. They will email you instructions on what and how to provide. In my case, a simple Google search about me, while I was placing the order, proved that I was the real deal.
The product was shipped immediately, and I received it just a couple days later. My salesperson even phoned me the day after delivery to make sure that I had received it and asked if there were any problems or issues. Great customer service!!
What I had already discovered before Sweetwater called was that -- since I did not have any M-Audio interface devices hooked up to my system -- the Pro Tools would not install. A Google search provided the solution: you need to download a program called ASIO4all . It is FREE shareware, so do not be hoodwinked into purchasing it from unscrupulous internet vendors. Go the the actual ASIO4all website and simply download it from the creators!
After you install it, you will be able to install Pro Tools.
Follow the instructions in your box on how to set up your iLok account. You start over at iLok, and then bounce over to Avid, and then go back to iLok to download the license. Just follow the printed directions.
But don't do a full install of your Pro Tools 10 yet!
What you will have purchased from Avid is Pro Tools 10. However, Pro Tools has been updated to version 10.2
I made the mistake of putting 10 on my system, only to later discover that in order to upgrade to 10.2 -- I had to wipe my drive clean of everything related to the old install.
So do not bother to put the boxed software on your PC. Instead, with the iLok in place, go to the Avid website and look for the updates.
Download the new Pro Tools installer, unzip it, and let it do its thing. It will install a copy of Pro Tools 10.2 onto your system. After the installation, you might want to upload some of the (bonus) content that came in your boxed software, such as audio clips, virtual instruments, etc. All of that would be on the other disks in your box, excluding the main Pro Tools Installer disk.
If you need any help, just call Sweetwater. They have a live Tech Support engineer who will assist you, unlike Avid who will not.
FYI, I did not receive any compensation for plugging Sweetwater. They aren't even aware that I did mention them. But I was truly impressed with their pricing and service, and enjoy passing along my recommendation.