Category: Book Reviews
Last Updated on Thursday, February 16, 2012
Fred Ginsburg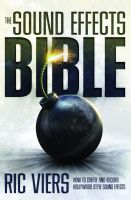 The Sound Effects Bible is the complete guide to recording, editing, and designing your own sound effects. If it snaps, crackles, pops, crashes, booms or bangs, it can be found somewhere in this first-ever book on the black art of Foley and sound effects. This definitive book covers microphone selection, field recorders, the ABCs of digital audio, understanding digital audio workstations, building your own Foley stage, designing your own editing studio, sound design, and much more.
This content is for current subscription members. Please login below or subscribe.