Category: Book Reviews
Last Updated on Thursday, February 16, 2012
Fred Ginsburg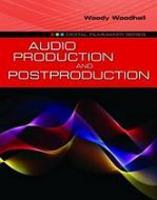 One of my favorite textbooks is Audio Production and Postproduction by leading audio professional Woody Woodhall, CAS. This introductory, comprehensive text of audio practices for both production and post-production sound, emphasizes the importance of recording the sound properly on the set and explains the postproduction audio process as a creative collaboration that enhances the story and is not merely a "fix" for various audio problems.
This content is for current subscription members. Please login below or subscribe.