Category: Book Reviews
Last Updated on Sunday, January 20, 2013
Fred Ginsburg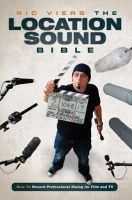 I am happy to announce that Ric Viers' latest textbook, The Location Sound Bible, is without a doubt the best book that I have read on the specialized topic of recording location dialogue and sound effects for filmmaking.
This content is for current subscription members. Please login below or subscribe.