Category: Exercises
Last Updated on Tuesday, August 30, 2011
Fred Ginsburg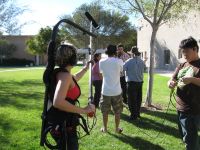 This exercise consists of an exterior scene involving boom, wireless lav, and plant mic. It is a good opportunity to work with battery powered mixers, long booms, windscreens, and exterior conditions.
This content is for current subscription members. Please login below or subscribe.