Category: General
Last Updated on Saturday, August 27, 2011
Fred Ginsburg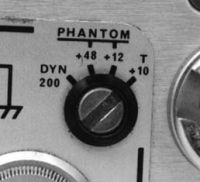 The topic for this article is mic powering, including Nagra "red dotting" and other basics pertaining to "phantom" powering of mics. If you are already intimately familiar with such terms as: T-powering; A-B powering; phantom powering; electret condenser; QPM 3-5; QPAU-T; and phasing cables -- then give yourself an A and skip on to another article in this website. But if any of this talk strikes you as resembling a call sheet from a sci-fi epic, then this primer is for you.
This content is for current subscription members. Please login below or subscribe.