Category: Lavalier
Last Updated on Saturday, August 27, 2011
Fred Ginsburg, Steve Savanyu, Audio Technica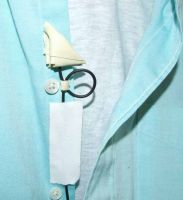 This is a PDF copy of the visual slideshow that accompanied Fred Ginsburg's presentations at NAB 2011. Audio Technica sponsored a series of free workshops every day of the conference. These graphics discuss outside-the-clothing as well as hidden-under-clothing techniques for mounting lavaliers.
This content is for current subscription members. Please login below or subscribe.