Category: Shotgun
Last Updated on Saturday, March 12, 2016
Thi Dinh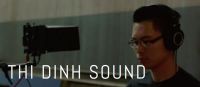 Here are reviews of the Sanken CS1e, CS3e, and Cinela Shockmount contributed by Thi Dinh. Thi is a recent grad of CSUN's film program and was one of my top audio students. He has been mixing professionally for about a year, owns a pretty decent sound package, and has recently added some Sanken condenser shotguns to his kit.
This content is for current subscription members. Please login below or subscribe.