Category: Post Production
Last Updated on Monday, August 29, 2011
Fred Ginsburg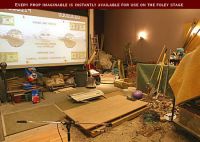 The post-production process known as "Foley" refers to the art of recording "live" sync sound effects to picture. It is akin to looping the dialogue, but instead of recording the actors performing their lines while watching themselves on screen -- skilled craftspeople known as "Foley artists" will walk, run, and act out any sync sound effects to match what the actor is seen (or implied) doing in the picture.
This content is for current subscription members. Please login below or subscribe.