Category: Post Production
Last Updated on Wednesday, March 06, 2013
Fred Ginsburg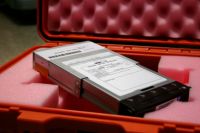 Somewhere in between YouTube and 35mm theatrical film projection exists the new crossover known as digital projection/distribution. The high cost of producing 35mm film prints has been slashed by the wide acceptance and utilization of DCP hard drives and thumb drives for mainstream theatrical distribution, festival submission, large venue screenings, and transcoding down to DVD and smaller digital outlets.
This content is for current subscription members. Please login below or subscribe.