Category: Recorders
Last Updated on Monday, July 29, 2013
Fred Ginsburg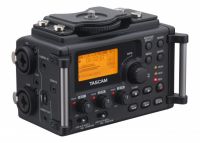 I recently acquired one of the new TASCAM DR-60d portable digital recorders for DSLR and video production. Lately, Teac TASCAM (now owned by Gibson guitars) has been slow in coming out with fresh products that are new solutions to old problems (their 8+2 multi-track field recorder was their last major innovation) -- but I believe that they hit the nail on the head with this new recorder.
This content is for current subscription members. Please login below or subscribe.