Category: Videography
Last Updated on Monday, August 29, 2011
Charles Parra, Denecke Inc.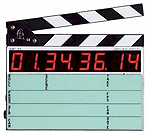 Why use 30 fps Time Code when shooting at 24 fps film? 30 fps Time Code is used when transferring film to 29.97 fps video for video/workstation editing or when transferring to mag film. The following chart shows the frames that are coincident between 30 fps and 24 fps.
This content is for current subscription members. Please login below or subscribe.