Category: Sound Design
Last Updated on Saturday, August 18, 2012
Fred Ginsburg, Steve Savanyu, Robert Bigelow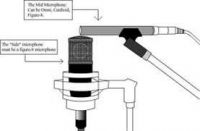 Mid Side stereo recording can be scarey if you spend too much time reading a lot of high tech articles. But as Audio Technica and sound mixer Robert Bigelow (music mixer for HBO's Treme) demonstrated at the 2012 NAB Show, it is actually a whole lot simpler and easier than you think to record stereo tracks in the field that can be varied during the stages of post production.
This content is for current subscription members. Please login below or subscribe.